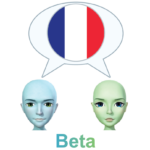 Details for each package are available at the bottom of the page.
Trial
Works withount internet (once downloaded)

Choice between 16 languages
Individual
11,99 €/month
11
,99€ VAT included
Single purchase
24 modules comprising each 4 to 6 lessons

Tracking of your progress

Works withount internet (once downloaded)

Choice between 16 languages
Professional
Ideal for non-profits and other organisations
All the functionalities available to the users

Unlimited access to our Back-Office

Management of your entities

Management of your learners

Tracking of each learner's individual progress
You can have upto 4 individual learners on a single equipment (PC or smartphone), each with its own speed of progress, ideal for the whole family!
The full version of Basic-Français incluses all the App's functionalities:
-24 modules
-70 dialogues in French
-Over700 activities
-Over 1700 pronunciations with voice recognition
-Over 3000 illustrations
-A pictionary
To date, you have the choice of 16 languages:
Arabic (standard)
Bangladeshi
Dari
Dutch
English (British)
English (US)
French
German
Kabyle
Mandarin
Pashto
Portuguese (Brazil)
Portuguese (Portugal)
Ukrainian Vietnamese
Exactly! You pay 11,99€ once and you will have access to all the functionalities and the regular upgrades of our App. The App is constantly evolving with new contents and new functionalities. 
With the "Professional" package, you can acquire several "activation keys" for Basic-Français when you need them. This package is therefore ideal for you, if you have groups of learners, or if you manage several learning entities! 
Here are some of the available functionalities:
For more information on our rates for this package: